How To Review Your Office For Colour Multifunction Photocopier Printers.
Get a Free Buyer's Help Guide PDF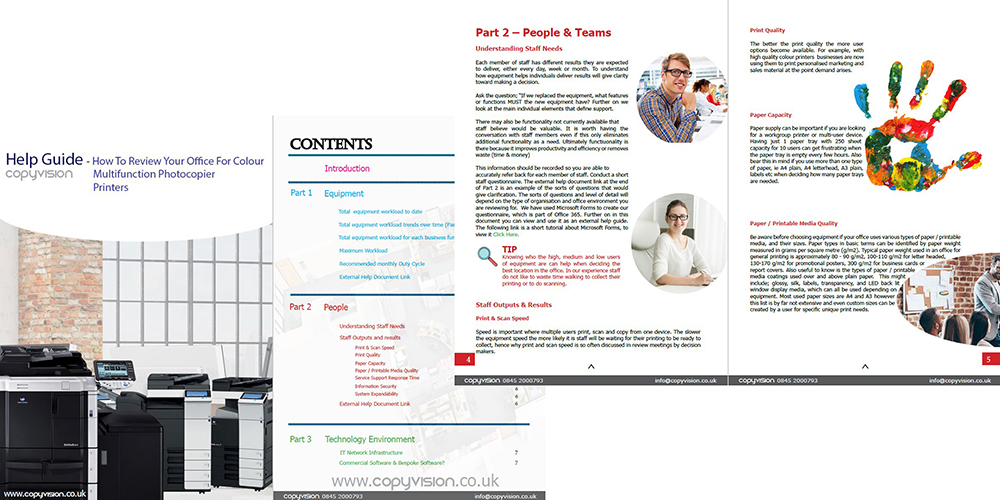 Save Countless Hours
Download the Free Colour Multifunction Photocopier Buyer's Help Guide Today.
Google Review
Couldn't recommend Copyvision enough, in fact I have recommended them to numerous people! Excellent service, rarely any problems with any of my 3 printers and if there is a problem (generally a paper jam we can't find!) it is normally fixed same day.
Toners are automatically ordered when we load a new one and there is never any downtime.
A small business you can depend on.
Content Summary
Introduction
Defines purpose of use and situational application.
Part 1 - Equipment
You'll learn how important it is to know the workload demand within the business and how this will help choose the right equipment.
Part 2 - People
Will clarify functionality requirements and priorities for each member of your team. The external document download is available to give priority guidance and record information.
Part 3 - Technology Environment
Why it is important to consider your current and future IT infrastructure.
Part 4 - Equipment & Running Costs
The Total Cost of Ownership Model, what it is and why you should be implementing it. The external document download from this guide gives you the means to calculate your current and future total cost of ownership.
Part 5 - Service Support
All support providers are not the same. Understand what aspects of service support you need and the importants of the terms and conditions of a Support contract before you enter into it.
Part 6 - Conclusion
A short summary of the attention to detail required and why, when conducting your review.
Part 7 - Index
A List of industry terminology used within this Guide explained.